The Band's Mission is Keeping the Legacy of The Stage Band Era Alive.  
Our band members are comprised of top-notch experienced San Francisco Bay Area Musicians from Hawaii to San Francisco, Chicago and New York.  They are steeped in the legacy of big band jazz. We will make your event successful.  The band has performed for weddings, local festivals, birthdays and corporate events.  Most recently, The Concord Jazz Festival's 50th Anniversary. 
See the reviews from our audiences:

"This was the best Big Band show I've seen in a long time.  The last time I saw anything this good was the Count Basie Orchestra at the Fairmont Venetian Room.  Two thumbs up."    Susie B.  -  San Francisco, CA
 
  "I heard Steve Snyder's Big Band last week at the Concord Jazz Festival.  Their set seriously rocked!"  Jim -  San Francisco, CA

"Thank you again so much for making our daughter's wedding reception a smashing success!  Everyone loved your music!    Greg P. - Piedmont, CA 
 
"
Bandleader and drummer Steve Snyder
led the band swinging with energy and excitement ... saxophonist Dan Willis laid down one inventive solo after another  ...... bass bone player Tim Phelan was giving a master class on trombone playing, and fiery lead trumpet player Eric Eidbo was spot on all night.....a show not to be missed."
National Musicians Journal, Vol 36, 
We would love to make your event a success!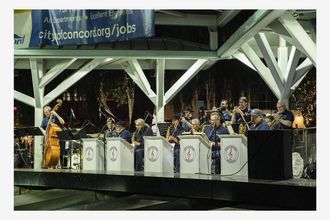 Visitors
You are visitor number: 10056